R.V. Park currently has 34 landscaped sites with these great features:
Views of the Thompson and Nicola Rivers as well as all the trains
Full service sites with power, water and sewer hook-ups
15 - 30 amp. electrical service on most sites
Several pull-through sites for very large rigs (up to 50 feet) plus tow vehicles
Sites for sun-lovers and shade-sitters
Tent camping (no services) with use of facilities
The facilities are centrally located and include:
three individual bathrooms with showers
laundromat
book exchange
a clubhouse with satellite TV & movies
pay phones
reception and store that carries a little bit of everything from soup to camping supplies
There are two large lawn areas under the acacia trees as well as the orchard. All are covered in a thick carpet of well maintained grass. They are ideal for large get-togethers including family reunions, R.V. Club events, and yes, even weddings have taken place here at Acacia Grove.
Another large section of un-developed property is easily accessible, flat and well suited for bus rallies and ?. It is close enough to the facilities and separated from the rest of the park by the orchard. Special rates apply, call for details.
Rates
R. V. PARK NIGHTLY RATES.
April - December
All services available
Power : Water.
$31.43 Tax . $1.57 Total $ 33 00
Power : Water : Sewer .
$35.24 Tax . $1.76 Total $ 37 00
Extra per Person .
$10 48 Tax . $0.52 Total $ 11.00
Tenter per person .
$14.29 Tax . $0.71 Total $ 15 00
Sani - Dump
$10.48 Tax . $0.52 Total $ 11 00
4 people per site , extra $11 00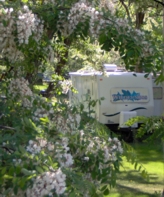 per person .
includes showers .
2013 Low Season:
January - March
Electric & sewer hook-ups only
$33 includes shower
R.V. Storage:
On site

see long-term RV Park discounts

Off site all year

without electricity - $60 per month
payable in advance
** All quotes in Canadian Dollars and includes tax .
** U.S. Funds accepted at current rates
** Based on four persons or less per night
** All major Credit and Bank Cards accepted
Cabins are comfortable, rustic with no-frills with 8 units that accommodate up to 4 persons include:
Furnaces and air conditioners
Modern bathrooms with plenty of hot water for showers
all units include a coffee-maker & fridge and have newly renovated kitchenettes including everything you need to prepare meals (except food!)
Recently purchased bedding and towels are supplied
Pets are welcome but must be LEASHED at ALL times , no pets on BEDDING.
Picnic tables and large green shaded lawns in front
Individual vehicle parking beside unit with extra parking nearby
Ideal accommodations for economical and family travel, sportsman and outdoor enthusiasts. Special long-term rates available for work crews, winter accommodations and contract work in the area.
CABIN NIGHTLY RATES*
Nightly rates:

| | |
| --- | --- |
| 1 person | $66.50 |
| 2 people | $83 00 |
| 3 people | $110.62 |
| 4 people | $123.90 |
Prices exclude all Tax`s
** All quotes in Canadian Dollars exclude H.S.T.+ P.S.T.
** U.S. Funds accepted at current rates
** All major Credit and Bank Cards accepted
**AVAILABLE CABIN RATE DISCOUNTS-- Long Term .
Are subject to change.
| | |
| --- | --- |
| RESERVATIONS AND CANCELLATIONPOLICY | |
¬ All reservations require a valid credit card account number and expiration
¬ All changes or cancellations can be made up to eight days before reservation date without penalty
¬ Seven days or less prior to reservation date, the first night 's non-refundable fee will be charged to the account
¬ If a reservation for multiple nights is not honored, the second night's non-refundable fee may also be charged to the account
¬ A reservation confirmation including all dates and fees applicable will be sent within one week by your choice of fax, email or post.

---